The American Connection
Agnes, heiress of the Washington family and ancestor of George Washington, the first President of the United States of America, married Edmund Lawrence, whose family (as did hers) originated from the Duchy of Lancaster. In 1540 the Lawrences moved to Steeple, while a descendant of the Washingtons, John, settled in Virginia, and became the great grandfather of George Washington.
The Stars and Stripes of the American flag were derived from the quartering of the arms of the Lawrences of Steeple and the Washingtons. These are seen in a number of places in St Michael and All Angels, Steeple. There is a stone memorial mural tablet over the east doorway of the north transept, another in the main porch and bosses on the barrel ceiling of the nave.
A later American connection with Steeple was during the Second World War (1939-1945), when British and American troops trained for the Normandy landings in the requisitioned Purbeck coast, when many Americans worshipped in the church o f Steeple; ahead of their fearsome ordeal.
In more recent years Steeple was presented with the Washington flag by the Mayor of Washington, which is hung in the church.
We give a very special and warm welcome to our American cousins and hope they will be interested by Steeple's historic connection with their first President.
The Washington quartering (stars and stripes) is derived from the marriage of Edmund Lawrence and Agnes, heiress of the Washington family. Their descendant was Sir Edward Lawrence of Creech Grange, whose initials with the date 1616, are on the armorial tablet at St Michael and All Angels Church, Steeple. The first President of the United States descended from the younger branch of [he Washington family whose arms appear on this armorial tablet.

ST MICHAEL and ALL ANGELS CHURCH STEEPLE STONE ARMORIAL MURAL TABLET OVER EAST DOORWAY OF NORTH TRANSEPT FOR EDWARD LAWRENCE 1616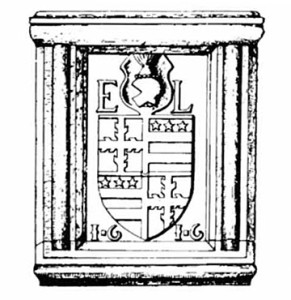 ARMS, QUARTERLY 1 & 4 CROSS RAGULÉ GULES (LAW'RENCE) 2 & 3 ARGENT TWO BARS & IN CHIEF THREE MULLETS GULES (WASHINGTON) A CRESCENT GULES FOR DIFFERENCE CREST A FISH'S tall ERECT PRO PER